THIS IS A GREAT ALBUM. GO TO THE
ANTROPOFAGO ATEO PRODUCTOS
WEBLOG TO LISTEN TO SOME OF IT AND PURCHASE THIS GEM OF PORTLAND (BY WAY OF ALASKA) GRINDCORE HISTORY. PRE-SUPERBAD. SUPPORT D.I.Y. CULTURE AND THOSE WHO KEEP IT ALIVE.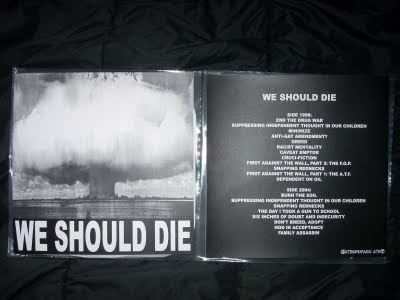 (DESCRIPTION FROM THE A.A. PAGE)
"WE SHOULD DIE existed as a politically charged grind/hc/metal unit from 1996 to 2004. Starting in the small town of Fairbanks, Alaska and moving to Portland, Oregon a year later. This LP captures their 2 best recording sessions, one side each. Side 1998 is arguably the darker, colder, rawer and more desperate of the 2 and sounds like the North Portland basement it was self-recorded in. Side 2004 sees a very apparent lineup change with a different drummer, Isaac Von Davis (formerly in Bent Over Backwards and Fall Of The Bastards) and a new second vocalist/ bassist. This material is faster, cleaner and a bit more urgent. Also recorded in a Portland basement. Samples can be found via the link on this site. LP comes with a vinyl sticker and an 18 page "SMALL, ENVIRONMENTALLY DESTRUCTIVE, WASTEFUL PAMPHLET CONTAINING LYRICS AND OTHER SUBVERSIVE WRITINGS." Members of WSD are now in Burials, Ritual Necromancy and Superbad. .A.A. could not be happier with the actualization of this record."